According to World Economic Forum's (WEF) November 2017 paper, Pakistan ranks 143 among 144 countries of the study in gender gap index, whereas neighboring Bangladesh ranks 47- which represents the best rank in the region. Taking the current ranking into consideration, the opportunity for improvement seems to be huge for Pakistan.
World Bank Group's motto of "leave nobody behind", imposes attention to be given to Pakistan's gender gap.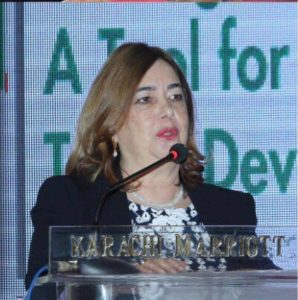 Further to this gap, population growth of Pakistan seems to be quite high. The population growth is not as high as the growth expected in Africa, where the world's highest population growth is expected, but already the latest count of population indicates that 207 million people are living in Pakistan. This figure makes ranking of Pakistan to be the world's 5 th most populous country. The ranking in the world starts with China, followed by India, the United States and Indonesia. Still, the growth rate of the population in Pakistan may continue while making the infrastructure of roads, schools and other like resources not sufficient very soon, leave alone available jobs. At the same time, I can follow that the investments in Pakistan is steadily going up, marking a pathway for the opportunity for growth.
As it can be guessed, as well as backed up by well documented research and statistics, when illiteracy and poverty prevail, they go hand in hand and hurt women and children the most. The investments in the country needs to continue and precautions to foster trade need to be established.
When I received an invitation to address the Conference on Gender and Trade, closing the Gender Gap – A Tool for Economic & Trade Development in Pakistan, even though my schedule was very tight, I decided to accept the invitation. The efforts made at the end of the gap involve more opportunities and higher chances for growth. Further, the invitation was coming from Yasmin Hyder, a patriot Pakistani entrepreneur who has established successful contacts and conferences since quite some time and established WE-NET only few months ago along with several other women entrepreneurs. The quantum leap is possible for Pakistan. As a founder of KAGIDER, I knew the value of leadership and the need we had for a helping hand 15 years ago – which was nonexistent when we formed KAGIDER. It was worth another flight to be able to help create change.
The conference had many distinguished speakers. It appeared to me that everybody was there as the champions to light the fire for gender diversity in Pakistan. I will be able to cite only few people I know. Zoubida Allaoua. Maria Liungman, Nabila Assaf as well as several other executives from World Bank Group delivered excellent speeches about the road map for trade and economic prosperity of women.
High Commissioner of Australia to Pakistan HE Margaret Adamson gave a whole hearted and encouraging address. Ambassador of Sweden HE Ingrid Johansson shared road maps and solutions for gender diversity and closing the gap.
Dorothy N. Tempo and Robert Skidmore from International Trade Centre presented their road maps for better trade, facilitation tools, solutions and programs as well as their experiences for women and trade. Their worldwide efforts are worth listening to.
Officials from Pakistan government, business and NGO representatives and executives of international organizations like Unilever and Nestle as well as international Hanadi Derhalli and Taghrid Nafeisi from Jordan and Linda Schmid of WIIT from USA participated with their trade and entrepreneurship solutions in their addresses.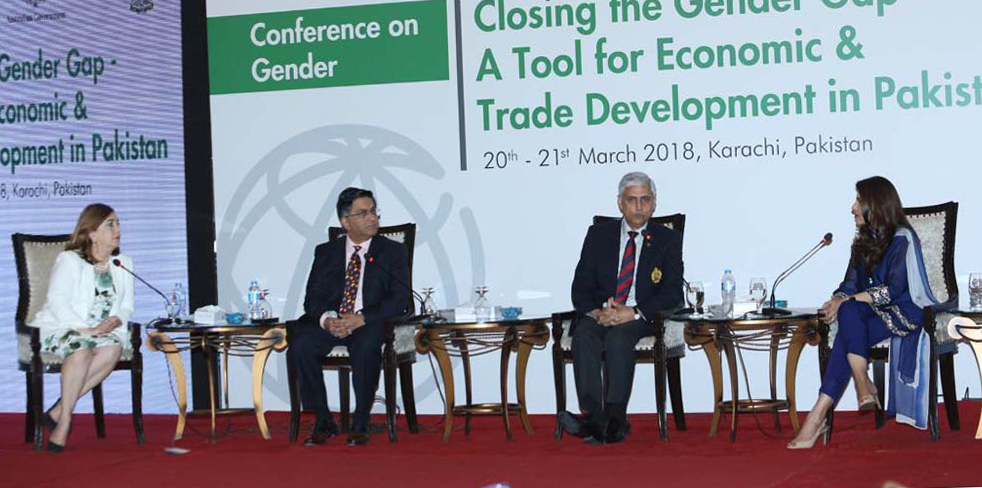 In the first day of the conference, I was expected to discuss and address the fact that "the countries and economies win, when women work". This theme was the reason of the establishment of the W20 – the Women outreach group of G20. When gender diversity and inclusion occur, the prospects of sustainable development become visible. The simple fact that when women earn income most of the income goes to the education of the family, especially children, but also for both parents and the rest, if any, is channeled to investments and investments for country is the prerequisite for growth.
I explained the need for education for the opportunity of decent employment and opportunity of entrepreneurship. In W20 world rural women is a topic and trade of rural product is the essence of trade.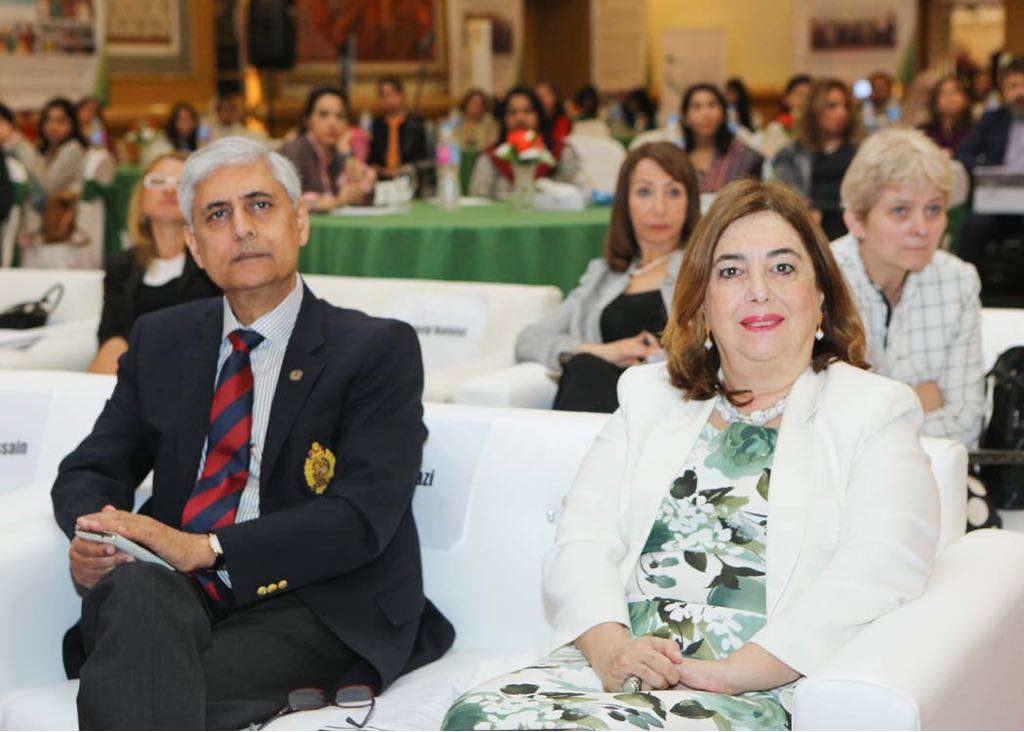 In the second day I spoke at the panel on cultivating male champions for gender Diversity. The moderator of the panel was Dr. Mahnaz Shah, a medical doctor and board member of WE-NET, together with Aamir Niazi, the Managing Director of Descan Oxychem and Shahid Mustafa, CEO of Telenor Bank. Both gentleman have explained their cases for supporting women at the work place and the mechanisms they have developed. Aamir Niazi mentioned the necessity of first doing the talking and following that men need to walk the talk. Shahid Mustafa gave examples of their procedures to support women employees with new born child and their extended parental leave policy among other policies. Both of my colleague panelists are excellent examples of male champions for gender diversity.
I discussed the need for male champions to support women employees or entrepreneurs. But, at the same time the essence of the issue is success. If there is no success the support can't be sustainable.
Trade of agricultural products represents a great opportunity for Pakistan. For textiles, in various forms, Pakistan's with rich colors and deeply rooted designs present other windows of opportunity. Both in agricultural activity and in textiles women have competitive advantage. With the right leadership and program, inclusion of women can turn a lead for growth.
United Nations International Trade Centre (ITC) hosts the Women Vendors Exhibition and Forum (WVEF) in different countries. In 2016 it was co-hosted by KAGIDER in Istanbul. The objective of the Exhibition is to bring women vendors to meet national and international buyers. Current President of KAGIDER, Sanem Oktar presented the event to the conference participants and mentioned that there where about 500 people who participate every year and million dollars' worth of business transaction agreements were in the meetings and in Istanbul in 2016.
This year "SheTrades Global 2018" will be a part of the International Business Festival in Liverpool, UK on June 25 and 26.
For the smaller entrepreneurship endeavors vast amount of education and liaising with networks are must. The budget for education in most cases need to be sought from governments. Networks like WE-NET are worth joining for all the women entrepreneurs of Pakistan.
I also believe in case by case and tailor-made entrepreneurship for the front-end entrepreneurship is a powerful tool to go forward.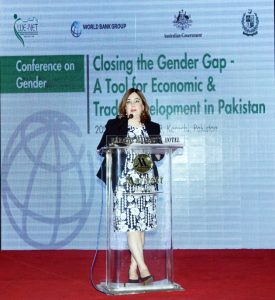 I have a suggestion project proposal to further enhance trade. It is a case by case success opportunity for which I name it "copy my success with pride." There are many successful women entrepreneurs that can willingly spare some of their time to explain their business model to prospective start-ups or copies in the other countries. What the successful women is buying, who are her suppliers or what is their procurement model, what does the value add she is creating in her company can be copied, if the role model is willing to share. On the recipient side, there must be a willing and dedicated entrepreneurial candidate with some capital and a lot of enthusiasm, who is willing to copy and listen to experience of the other women or men who had already succeeded in another country. With one campaign can get several women candidates cross border. As Arancha Gonzales says "when she trades, we win."
Additionally, many manufacturers – men and women – are looking for cross border sales and distributor and further some of ready to train their distributors. Hard working distributors are a win for any manufacturer. That is, distributors are great opportunity for every manufacturer. And, hardworking distributors are a bonus. I can assure you that women are hardworking and almost every penny they earn goes to the household for better education and better health. For this distributorship many international companies may even volunteer to form a women entrepreneurs' network.
Connecting one million women entrepreneurs is a global goal. For going forward faster, we need to reach out to more women with more projects. Waiting 170 years for gender equality is not a solution.